Are iBuyers Worth the Buzz?
Blog posted On February 16, 2021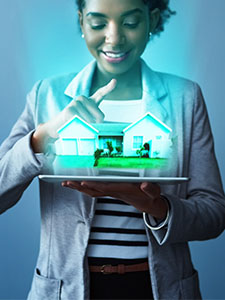 No, an iBuyer is not the next big Apple product, it's an online 'instant buyer' that is becoming a popular option in today's housing market. Over the past several years, many home sellers have chosen iBuyers because of their convenience and efficiency. When a seller uses an online iBuyer platform, the purchasing company makes an offer for your house, takes care of upgrades and repairs, and buys the house from you in order to make a small profit when it sells again. Before you choose to go this route, make sure you know the advantages and disadvantages of using an iBuyer to purchase your home.
Pros
The main selling point for most iBuyer companies is their convenience – no repairs, appraisals, home tours, or bidding wars. Plus, they say that they can buy your property in only a few weeks. All you need to do is request a price quote online (through Zillow or Redfin, for example).
In the midst of the coronavirus pandemic, contactless purchases are appealing for many sellers. Normally, home buyers would want to visit and walk through a house before purchasing it, which can be uncomfortable for some sellers during this time. Platforms that are buying homes virtually, such as Opendoor, have implemented virtual home assessments and touch-free inspections. One seller noted that the contactless transaction "spoke volumes" since she had been working from home since March and was trying to be cautious and avoid having strangers in the house.
In addition to offering virtual transactions, iBuyers offer flexible closing dates. While traditional sales take around one month to close, iBuyers can extend the escrow period to three months, if the seller needs. This can be extremely beneficial for sellers who are looking to buy in a low inventory market like we have right now. Many houses have multiple offers, and it could take a couple of tries for a buyer to put in a winning offer. "With us, you get to pick the close date up to 90 days out, especially when you're not sure what you're going to buy yet," said Zillow president, Jeremy Wacksman.
Sellers also have a certainty with iBuyers knowing that they don't need to be approved for financing like typical home buyers. This allows sellers to put in an offer on a house without worrying about the sale on their current home falling through due to a contingency.
Cons
Unfortunately, iBuyers generally only buy median-priced homes with conventional features in certain areas. This allows their computer algorithms to quickly and accurately value the house using local market data.
Additionally, sellers may not get the full price they think their home is worth when they use an iBuyer. While real estate agents can help them prepare the house and price it at the optimal amount, sellers often don't know how to price the house on their own. "The seller is being hurt because they don't know what price the market is willing to pay," said Mauricio Umansky, founder and CEO of brokerage The Agency.
According to a 2019 analysis, iBuyers pay 1.3% less for homes than a traditional buyer. Furthermore, iBuyers charge between 5% and 12% on commission, while typical real estate agents currently average at a 6% commission in most U.S. markets.
One MarketWatch study found that sellers who use an iBuyer make around 11% less than owners who sell to a traditional buyer. Based on this research, if you have a home that is $400,000, the iBuyer offer would be around $356,000 – that's $44,000 not in your pocket. Plus, with a potentially higher comission, you could be taking home even less. And although iBuyers do not require appraisals, they do require inspections.
The iBuyer trend is likely to continue growing in the future. Not only can using an iBuyer be a useful tool amidst the pandemic, but it also could help when you are looking to purchase another home while selling. However, you may not get as much bang for your buck and ultimately, selling with a real estate agent could be a beneficial resource instead.
Sources: Money.com, Realtor.com