10 Questions to Ask Your Lender Before Closing
Blog posted On February 11, 2021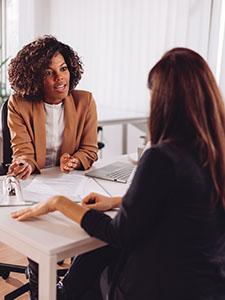 The road from saving for your home to closing on your loan can feel like a long one. By the time you reach your closing date, you will likely be excited to sign the documents, pay the necessary fees, and cross the finish line once and for all. But before you do, make sure you ask these important questions before closing on your home purchase, or even your refinance.
1. What type of mortgages do you offer, and which do I qualify for?
You'll have several mortgage choices depending on your home purchase or refinance. However, different mortgages have different requirements – and you may not qualify for all of them. One of the first choices you'll have is a fixed-rate mortgage versus an adjustable-rate mortgage. With a fixed-rate mortgage, your interest rates will stay the same over the life of your loan, while an adjustable-rate mortgage will have varying rates dependent upon the market interest rates. Another choice you will have to make is between a government insured loan and a conventional mortgage. Government insured loans include FHA, USDA, and VA loans, while conventional loans are mortgages that are not backed by the federal government.
2. What will my interest rate and APR be?
Though some lenders choose to publicly advertise a mortgage rate, the actual interest rate on your particular mortgage will depend on several factors. Some key factors include your credit score and credit history. In general, the higher your credit score, the lower your mortgage rate – although other factors affect your mortgage rate as well, such as your employment history, income, and debt-to-income ratio.
3. How long will it take to apply for and close on my home loan?
We specialize in fast closings, but the time it takes to close on a loan may vary. According to REALTOR® Magazine, the average time to close on a mortgage loan is 48 to 51 days – from application to closing. The closing process for government loans will typically take longer than that of conventional loans.
4. What are loan discount points?
Mortgage points or discount points are fees paid to your lender at closing in order to help lower your interest rate over the life of your loan. One discount point will equal 1% of your loan amount. Paying one discount point will generally result in a 0.25% cut in your interest rate, according to Fox Business, though cuts may vary. Whether or not you buy discount points depends on how long you plan to stay in the home and what your interest rate will be.
5. What fees will I pay?
Lenders often advise you to calculate the benefits of refinancing your home because it comes with origination fees. Whether purchasing or refinancing, there will undoubtedly be certain fees you will be required to pay. From application fees to appraisal fees, and home inspection fees to loan origination fees – the list may be longer than you think.
6. Will my rate change over the life of the loan?
Many assume that if you have a fixed-rate mortgage, then your payments will not change over the life of your loan. Though this is true your rate of interest will not change, your payments can still change if you have cancellable mortgage insurance or if your property taxes change.
7. Can I get a rate lock on my mortgage?
A rate lock is when you secure your interest rate – unchanged – for a specific period of time. The time period can vary, but usually lasts 15 to 60 days. This allows you to lock in your rate at the beginning of your mortgage process and keep the same rate by the time you close. Locking in your rate can be especially useful in the low-rate environment we are seeing today.
8. Can you estimate my monthly payments?
Once you pass mortgage prequalification, your lender can likely give you a rough estimate on your monthly payments. Alternatives include using our mortgage calculator to give you a complete breakdown of your costs and amortization over the life of your loan.
9. Will I pay private mortgage insurance (PMI)?
PMI is used to off-set your lender's risk and is normally paid as a part of your monthly mortgage payment. Though PMI requirements will vary per lender, you typically will need to pay PMI if you put down less than 20% on your down payment on a conventional mortgage loan. The cost is normally 0.5% to 1% of your loan.
10. Will I pay any prepayment penalties on this loan?
Before paying off your loan early, make sure there are no prepayment penalties with your lender. Your loan agreement will likely have more information on this, but when in doubt, talk directly to your loan officer.
Hopefully we've covered some of the questions you had on your mind, but if not, let us know. Our door's always open!
Sources: Fox Business