3 Reasons You Should Refinance Now
Blog posted On February 23, 2021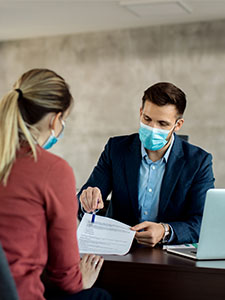 Mortgage rates have trended near historic lows for almost a year now, with the number of new home purchases and refinances surging in response. At the end of last month, the number of refinance application submissions were up 59% year-over-year, hitting their highest level since March 2020. Thousands of homeowners have already refinanced their mortgage to take advantage of low rates, but if you haven't yet, here are three factors to consider before you make your mortgage move.
1. Interest rates are at record lows
A general gauge for 30-year fixed mortgage rates is the long-term 30-year treasury bond. At the beginning of the coronavirus pandemic, treasury bond rates started falling and consequently so did mortgage rates. In 2020, mortgage rates touched down to a total of 14 record lows, and they still remain near historically low levels today. So, if you currently have a higher mortgage rate then what's available today, you could lower your rate with a rate and term refinance. A refinance is also a good opportunity to shorten your mortgage term. By shortening your term and/or lowering your rates, you can save not only on your monthly payments, but you can save thousands of dollars in interest over the life of your loan.
2. Rates on fixed-rate mortgages are nearly equal to ARMs
An ARM or adjustable-rate mortgage will have a fluctuating mortgage rate based on the current market. Typically, ARMs offer lower rates for the first few years of your loan term compared to that of a fixed-rate mortgage, before the rate moves higher or lower. However, one of the odd trends of the current market is that fixed-rate mortgage rates have been dropping while ARM rates have been increasing. This is because many lenders and mortgage experts expect rates to trend back upward eventually and may not want borrowers selecting an ARM right now simply because their initial rates are lower, having to later refinance.
3. Higher rates will be coming soon
Though we may not know when "soon" is, we do know that rates will rise. "The future outlook for mortgage rates is likely higher thanks to a changing landscape in Washington," said Danielle Hale, chief economist for Realtor.com. Though the Fed is committed to keeping the benchmark interest rate near zero until the economy recovers from the coronavirus pandemic, mortgage rates still could rise even as early as the end of the year. According to Greg McBride CFA, Bankrate chief financial analyst, "it will be an especially volatile year for mortgage rates, with fixed rates falling to even lower lows early in 2021 on economic concerns but rebounding in the back half of the year as widespread vaccinations lead to a surprisingly strong surge of economic activity — and the inflation worries that come with it."
Low mortgage rates won't last forever. Refinances may have been surging over the past year because many homeowners are looking to lock in low rates before rates rise. To avoid missing out on record low rates, contact us today and we will get you started on your refinance right away.