4 Ways the Housing Market Could Change After the Pandemic
Blog posted On April 20, 2021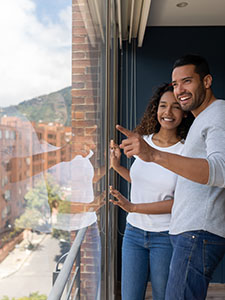 The housing market saw notable shifts when coronavirus initially broke out last year. Mortgage rates dropped, home prices surged, and an increasing number of buyers fled the cities into suburban areas. Now, as the economy is gaining strength, we will likely see the housing market shift again – specifically in these four ways.
Home values will grow, but at a slower pace
As more people become vaccinated and the economy recovers, mortgage rates will likely rise. Mortgage rates and the spread of the pandemic have been conversely related. When the number of coronavirus cases increased, mortgage rates generally trended lower. When vaccines became more widely available, mortgage rates began trending higher. President Biden has said that "the vast majority" of the adult population will be eligible to receive the coronavirus vaccine by April 19th. All adults should be eligible by May 1st. Consequently, rates will likely rise, and Americans will probably be looking to spend their money on activities like vacation, parties, and entertainment again. Therefore, home price appreciation will likely slow into the single digits – around 5% according to Redfin predictions. This increasing affordability (along with the improving economy) could encourage more buyers to enter the market.
More people will list their homes
When the pandemic ends – or slows significantly – the number of homes on the market should increase. Home inventory has been hovering near record lows as people have been hesitant to sell due to the potential of coronavirus exposure. Current new listings are down 12% from last year. However, if most people are vaccinated by 2022, Redfin predicts that new listings will jump by 10%. Once more people get their vaccination, the fear should subside, and more people may be encouraged to sell. The profits of selling right now are extremely high with low home inventory and high home appreciation.
Competition for condos will increase
Condos on the market during the pandemic were over 17% cheaper than single-family homes. This was the largest condo discount since 2013. However, as more people return to the office, the number of condo sales will likely pick up (along with their sales price). "If you want to buy a condo, now is the time," said Redfin real estate agent Ben Stanfield. "My personal opinion is that the condo market will start to see signs of life coming back in around October."
Suburban areas will become more populated
Though many people will return to the office when the pandemic subsides, many will continue working from home as well. This increasing number of work-from-home employees could draw more business out of the cities and into the suburbs. For example, Starbucks is closing stores across several cities in order to open stores in more suburban locations. Over time, Redfin predicts that the shift will start to make suburban communities feel more like cities. For some, this could make moving to the suburbs more desirable. People look for homes with good proximity features – homes that are close to schools, grocery stores, and other amenities. With an increasing number of businesses headed to the suburbs, more people might be encouraged to move. Not only do homeowners benefit from this proximity while they are living in the home, but they can help increase their listing price when they decide to sell as well.
Rates may rise as the economy recovers from the pandemic. This also could help drive down home prices and buyer competition, making it easier for you to buy your dream home. There are several ways that the recovering economy can benefit you while buying a home. If you would like to learn more or start preparing to buy, let us know or click "Get Started" above.