A Home Buyer's Guide to a Pet-Friendly Purchase
Blog posted On April 07, 2021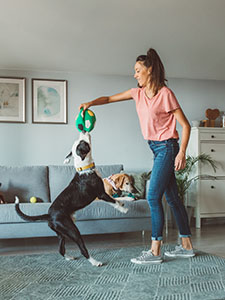 When buying a home, it's important to consider the needs of all family members involved. For many families, this includes the needs of a furry friend. According to the American Veterinary Medical Association, over 50% of American households have at least one pet, and nearly 90% of those households said their pets' needs are very important factors when buying a home. If you're one of those 90%, consider these four questions to find the perfect place for both or both you and your pet.
What are the pet laws in the area?
One of the benefits of buying vs. renting is the pet freedom. Not all rentals allow pets, and if they do, there might be restrictions on the number, breed, and size of your pets. However, in some areas, these restrictions might apply even if you own the property. For example, in most condo developments there is a limit on the number of dogs per unit and per floor. Other condos or HOAs might have restrictions on where you can bring your pets. "It's important not to assume dogs are allowed because you saw one during your tour," explains Amy Ference, REALTOR® in Bozemon, MT. "Sometimes they are only allowed on the first floor, or in end units." Ference notes that different cities have different restrictions, so check the state and city-specific pet laws in your area.
Does the property have a backyard, fencing, or places for pets to roam?
Having fenced-in yards can be a huge plus. This allows your pets to work off some energy without wearing you out on endless walks. If you can't find a good backyard, try to focus your home search on neighborhoods that are near dog parks. At the very least, make sure that your property is located in an area where you feel comfortable walking. "You want to find a place where you're happy to walk," says Ference. "In snowy climates, that also means places with sidewalks, or you're stuck walking in the roadway—which is super dangerous—or trudging through snow, which is exhausting." Try to avoid places that are right off of busy roads or highways. Oftentimes, cats will sneak out and roam around while dogs have a tendency to escape and run wild. Cat and small dog owners should also be cognizant of the local animal community – areas with coyotes or other large predators can be a danger to smaller animals.
Is the floor plan accessible?
Depending on the breed and age of your pet, certain home layouts might be more difficult for them to maneuver. Older dogs prone to joint issues can have a difficult time climbing stairs. If you're interested in purchasing a multi-story home, try to envision ways you can help your pets remain on one level. Other ways to make multi-story living easier for your pets is looking for places with carpeted stairs so that your pet doesn't slip. "[That's] the number one request for people with dogs," says flooring expert Debbie Gartner. Also, try to find a floor plan with good areas for playtime and washups as well. Mudrooms are extremely beneficial to have when you're bringing a muddy puppy inside and need to wipe him down.
Is there easy-clean flooring?
Pets make messes. If you think you can get a four-legged pet that won't make a mess at some point, you might be unpleasantly surprised. Aside from ripping and scratching furniture, pets with paws tend to make muddy footprints, have accidents, and shed hair. Over time, these little messes can do big damage to carpeted floors. Aside from the stains, carpeting is also likely to develop a certain smell. "Carpeting is not great for resale value," says Ference. For an easier clean, Gartner recommends looking for homes with hardwood floors. Hardwood floors can be refinished (if they're scratched). Look for very light or very dark wood with triple sealant and high-grade polyurethane. Other options besides wood include tile, luxury vinyl, or laminate.
Our pets are our family, but they aren't worried about a good school district or convenient commute. The simplest home features can bring them the biggest joy – a joy well-deserved for all the happiness they bring us. If you need help finding the perfect place for you and your pet, let us know and we would love to help.
Sources: New Home Source, Realtor.com