FHA Raises Loan Limits for 2021
Blog posted On January 26, 2021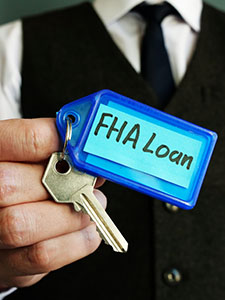 On January 1st, 2021 the the Federal Housing Administration (FHA) raised its loan limits for the new year. Though the limits vary per house location across the country, both the limit floor and limit ceiling have increased by thousands of dollars.
The limit floor is the loan limit for low-cost areas of the U.S. This year, the FHA raised the limit floor for single-family homes by $24,602 to reach $356,362. The limit ceiling is the loan limit for areas that have more expensive homes. In 2021, the limit ceiling increased to $822,375 – up $56,775 from last year. To view the loan limits in your area, visit the FHA website.
The FHA Loan is one of the many low down payment options that we offer. Backed by the U.S. federal government, the FHA Loan is generally less restrictive than conventional loans – with easier qualifications and down payments as low as 3.5%. Many buyers assume that a 20% down payment is required in order to purchase a house, but there are several low down payment options (like the FHA Loan) that can help you reach your home buying goal faster and easier. The low down payment option of the FHA Loan is one of the many reasons it is popular among first-time home buyers.
To qualify for the 3.5% FHA Loan down payment, you must have a credit score of at least 580. If it's between 500 and 579, you will need at least a 10% down payment. If you've had a bankruptcy or foreclosure in recent years, you need to reestablish your credit to qualify for an FHA Loan.
Everyone who finances their mortgage with an FHA Loan is required to pay a Mortgage Insurance Premium (MIP) and an upfront funding fee of 1.75% of the home's purchase price. The price of the MIP varies, but it is typically about .5% to 1% of the loan. You pay the MIP for a minimum of 11 years unless your down payment is less than 10% — then you will have to pay the MIP through the life of the loan. Other FHA Loan requirements include steady employment, U.S. citizenship, and a property appraisal. Last week, the HUD announced that the FHA would once again be backing mortgages for DACA immigrants as well.
As home prices continue to appreciate, the loan limits adjust and increase as well. Adjusted loan limits are one of the many beneficial tools that can help you reach your homeownership goal more easily. If you would like to discuss other tools or FHA Loan options, ask us and we would love to help. Our customers are our top priority and we're grateful that we get to continue helping you with all your home financing needs!
*FHA Payment example: If you choose a $250,000, 30 year loan at a fixed rate of 3.75% (3.94 APR) with a loan-to-value (LTV) of 96.5%, and a $173/month PMI, you would make 360 monthly payments of $1,315. Payment stated does not include taxes and insurance, which will result in a higher payment.
Sources: Business Insider, FHA