Good News Ahead for Buyers After a Surge in New Listings
Blog posted On July 06, 2021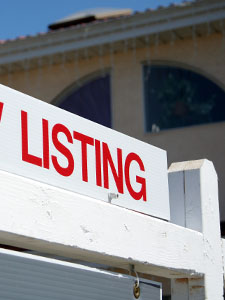 Over the past year, home inventory has dropped to record low levels. Historically low mortgage rates have driven eager home buyers into the market, but with hesitant home sellers and overpriced home building materials, the supply of homes has not risen alongside buyer demand. Consequently, buyers have faced increased purchasing competition, higher sales prices, and fewer options to choose from. However, more supply is on the horizon.
According to Realtor.com, the number of new homes on the market increased by almost 11% in June. In larger cities, new listings surged by 20% or more, year-over-year. The jump in listings should be a welcome relief for home buyers. New listings typically start falling around the summertime. But over the past 16 months, the housing market hasn't followed many of its usual trends. "The improvement we saw in new listings growth from May to June shows sellers are entering the market historically later in the season, which could mean we'll see home buying continue into the fall as buyers jump at new opportunities," says George Ratiu, senior economist at Realtor.com.
New home inventory fell by 43.1% year-over-year in May. That's 415,000 fewer homes on the market than on a typical day this time of year. For buyers, this translates to quicker sales and higher prices. In Washington, D.C., where the housing market has been very tight, homes have been selling in as little as a week or two. Buyers are having to make offers that are thousands over asking price just to compete with other interested parties. With more homes on the market, prices could drop, and buyers could have less competition.
"Although there's still a significant shortage of homes for sale and home prices just hit a new high, our June data report shows good news on the horizon for buyers," said Ratiu. "Inventory declines improved over the steep drops seen earlier in the pandemic as sellers stepped back into the market in a variety of price ranges across the country."
If more homes continue to enter the market and construction continues to pick up, the scorching hot market will slowly cool off and prices should drop. "Home price growth will steadily moderate with increased supply, but a broad and prolonged decline in prices is unlikely," said Lawrence Yun, chief economist of the National Association of REALTORS® (NAR). "If a reduction does occur in some markets, home buyers will view the lower home price as a second-chance opportunity to get into the market after being outbid in previous conditions."
We might already be seeing the positive effects in the market of the increased listings. Last week, pending home sales revealed a 13.1% year-over-year increase in May – reaching their highest level since 2005. Despite rumors of a crash, the housing market has a very promising outlook – for both buyers and sellers.
To prepare for more homes on the market, make sure that you are ready to make the strongest offer possible. Get preapproved, gather your important paperwork, and make sure you budget for making an offer above listing price. You can start your preapproval online or contact us for more information!
Sources: CNBC, HousingWire