How Housing Has Changed in a Year & Where it's Headed Next
Blog posted On March 23, 2021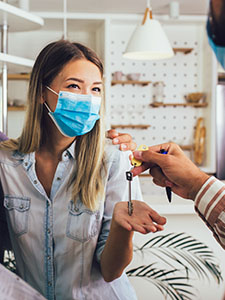 Unexpected is an understatement when describing this past year. A global pandemic, a struggling economy, and so much more led to a 2020 that we won't be forgetting anytime soon. And in the midst of it all, the housing market took a turn that hardly anyone expected – breaking records, surging demand, and a much-needed hand that helped keep the economy going through unprecedented times. Now, many of us are wondering: what's next?
Mortgage Rates
Where they've been:
One of the most notable changes in the housing industry over the past year has been the historically low mortgage rates. At the beginning of the pandemic last year, mortgage rates dropped. Then in April, when the first stimulus package was announced, they inched up briefly. Throughout the rest of 2020 they plummeted to over a dozen record lows.
Where they're headed:
Now, one year later, the economy is finally starting to gain more strength. More vaccines are being distributed, more people are going back to work, and COVID-19 cases are seeing a notable drop. Though the Fed has remained committed to keeping the benchmark interest rate near zero, there are other factors that influence the trends in mortgage rates, such as inflation, demand, and long-term treasury bond rates.
"As the economic outlook strengthens, thanks to progress against coronavirus and vaccines plus a dose of stimulus from the government, this pushes up expectations for economic growth and inflation, driving long-term bond rates higher," says Danielle Hale, chief economist at Realtor.com. "Our long-term view for mortgage rates in 2021 is higher, and they seem to be on course to move in that direction over the next 90 days." Most experts believe that the immediate future of mortgage rates depend on the health and recovery of the U.S. economy. However, for now they're still trending lower than they were pre-pandemic.
Home Sales
Where they've been:
Last year, existing home sales plummeted 28% from March to May. However, in June, they shot up over 20% month-over month. By August, existing homes were selling at their fastest pace in 14 years. With more people working, learning, and spending most of their time at home, many buyers entered the market in search of homes with more space – both inside and outside. In January 2021, existing sales were over 25% higher than they were in January 2020, reaching an annual adjusted rate of nearly 6.7 million. Next week, the NAR will release their report on existing sales in February.
Where they're headed:
Many experts have predicted that home sales will remain high throughout 2021. Between relatively low mortgage rates, growing vaccine distribution, and continued demand, there are several factors that should keep the housing market hot. However, according to Lawrence Yun, chief economist at the National Association of REALTORS® (NAR), "the home-sales market will experience countervailing forces of the higher push from more jobs, but also the pull back of higher mortgage rates […] We will have to wait to see which force will be stronger."
Housing Inventory
Where it's been:
Like mortgage rates, the inventory of for-sale houses has been historically low over the past year. According to Redfin, active listings have dropped 40% year-over-year to reach an all-time low of 497,909. New listings have dropped as well, down 17% year-over-year to a level of 63,155.
One of the factors contributing to low inventory is the extremely high cost of building materials, with softwood lumber prices surging nearly 80% year-over-year in February. Home builder sentiment dipped to a level of 82 in March, with worries over the rising costs of materials and their delivery time. "All in all, we're short now about 3 million homes," said Gay Cororaton, senior economist and director of housing and commercial research at NAR.
Where it's headed:
Prices for homebuilding materials are likely to continue rising – with the Associated General Contractors of America saying that manufacturers will likely raise drywall prices by 20% come late March/ early April. While "builders [will] face some near-term challenges," said Ryan Sweet, a senior economist at Moody's Analytics in West Chester, Pennsylvania, "we don't anticipate that this will weigh too heavily on starts, [and] the forecast is for housing starts to steadily increase throughout the course of this year."
Home Prices
Where they've been:
Due to surge in home buyer demand and deficit of available homes, home prices have seen sharp spikes over the past year. In January, prices were up by more than 10% year-over-year, according to the Case-Shiller home price index. This was the fastest pace of home price increases since 2006. Though the increases might seem shocking, a recent report from Fitch Ratings showed that the prices for homes are largely overvalued right now (by roughly 5.5% nationwide). Homes are selling for thousands of dollars over their asking price with no contingencies – after only being on the market for a matter of days.
Where they're headed:
With the hopeful increase in housing inventory, prices will likely cool off. The benefit of rising prices is rising home equity. Some areas have gained over $400,000 in home equity over the past five years. Collectively, homeowners gained $1.5 trillion in 2020 – individually earning about $26,000 sine the fourth quarter of 2019. "This equity growth has enabled many families to finance home remodeling, such as adding an office or study, further contributing to last year's record level in home improvement spending," said Frank Nothaft, chief economist at CoreLogic.
Though the housing market might be competitive for the coming months, there are still ways to lock in your rates and save thousands. A recommendation by Cororaton is to "make sure [you] get prequalified when [you're] thinking of buying a home." Prequalification can make your mortgage road smoother and your home offer stronger. Get started on yours today with our easy online application.
Sources: Bankrate, CNBC, NAR, National Mortgage News, Redfin, Time