How the American Rescue Plan Will Impact Housing
Blog posted On March 16, 2021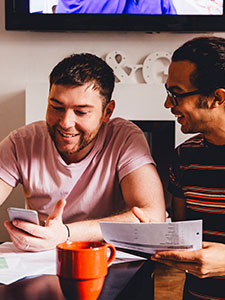 Last week, Congress approved a $1.9 trillion relief package known as the American Rescue Plan. President Biden signed the plan on Friday, which means the sixth coronavirus relief measure should be disbursed very soon – giving many Americans a $1,400 direct payment and millions of others assistance with unemployment benefits, small business loans, vaccine investment, and community support.
The American Rescue Plan is one of the largest economic relief packages in U.S. history. Though the spread of COVID-19 is starting to slow, millions are still out of work and struggling to pay their monthly bills. Aid from the stimulus package should help – with $5 billion put toward federal food affordability programs, $15 billion invested in a small business grant program, and $7 billion used to help increase internet access for students. Individuals earning less than $75,000 per year will get a $1,400 direct payment, and those who are unemployed will continue to receive their extra weekly $300 on top of existing unemployment benefits. Though the Pandemic Unemployment Assistance Program was set to expire in mid-March, the American Rescue Plan will extend these benefits through September 6, 2021.
Additional relief measures will be allocated to the housing industry as well. "While some notable changes were made as this bill worked its way through the Senate, all of the major provisions important to real estate remained intact," said Shannon McGahn, chief advocacy officer of the National Association of REALTORS® (NAR). Over $21 billion will be allocated for rental assistance (on top of the $25 billion in December), along with $5 billion for emergency housing vouchers, and $5 billion for homelessness assistance. For homeowners, $100 million will go to USDA-financed properties and $10 billion will go to a Housing Assistance Fund, which helps homeowners pay their bills. Another $100 million will help support housing counseling services, and other programs will receive funds to help the housing industry as well.
The total amount of money allocated for housing assistance in the upcoming relief package will surpass $42 billion. "The American Rescue Plan provides our nation with much-needed resources to help continue to weather the pandemic-induced economic storm," said Adrianne Todman, CEO of the National Association of Housing and Redevelopment Officials. "The assistance included in this legislation will prove critical during the coming weeks and months for keeping residents safely and securely housed and ensuring the nation's rental housing market remains stable," said the National Apartment Association and National Multifamily Housing Council in a joint statement.
NAR urged congressional leaders to provide additional housing assistance in a letter they sent in February, saying, "rental assistance that is easily accessible to qualified households will relieve renters from excessive debts and ensure our critical rental housing stock is sustainable." They also were in support of the extra $350 billion allocated for state and local community aid. The majority (90%) of American cities expect to face budget shortfalls this year due to the pandemic, which could lead to increased taxation. With the help of the extra funds from the stimulus, state governments can help ease the blow of the budget shortfalls for property owners. They can also better address public health concerns as more businesses, schools, and communities begin to reopen.
Though the coronavirus pandemic has caused a long year of unforeseen challenges, economies across the globe are slowly starting to get back on their feet. With the help of federal assistance packages such as the American Rescue Plan and the continued vaccination efforts, the U.S is on a strong path of economic recovery. To take a deeper look at the current bill, visit www.congress.gov. For any COVID-19 information, visit CDC.gov.
Sources: Housing Finance, REALTOR® Magazine, Washington Post