Market Recap: Construction Spending Jumps, Mortgage Applications Increase, and ADP Employment Shows Job Growth
Blog posted On March 05, 2021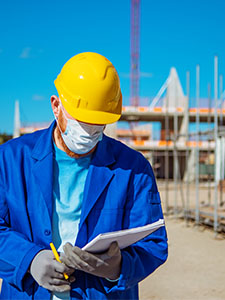 Mortgage rates trended downward this week. Construction spending hit an all-time high in January. Mortgage application submissions increased. The ADP employment report showed increases as well.
In January, construction spending jumped 1.7% to reach a record high of $1.52 trillion. Year-over-year, construction spending rose 5.8%, as low mortgage rates have driven more home buyers into the market in search of new homes. Spending on private construction projects, like residential building, increased at a seasonally adjusted annual rate of $1.16 trillion. Residential outlays specifically increased 2.5% while nonresidential spending inched up 0.4%. Public construction spending rose 1.7% to reach a seasonally adjusted rate of $362 billion.
For the week ending 2/26, mortgage application submissions increased by a composite 0.5%. Refinance submissions rose 0.1% while purchase submissions climbed 2%, week-over-week. Compared to the same week last year, the refinance index was up 7% and the purchase index was up 5%. "The housing market is entering the busy spring buying season with strong demand," said Joel Kan, associate vice president of economic and industry forecasting at the Mortgage Bankers Association (MBA). "Purchase applications increased, with a rise in government applications - likely first-time buyers - pulling down the average loan size for the first time in six weeks."
ADP private sector employment added 117,000 jobs in February. Small businesses (under 50 employees) gained 32,000 workers, while midsized companies (50 to 499 employees) added 57,000 jobs and large companies (500 or more employees) added 28,000 workers to their payroll. Service sector companies added 131,000 jobs while the goods sector businesses shed 14,000 jobs. "With the pandemic still in the driver's seat, the service sector remains well below its pre-pandemic levels," said Nela Richardson, chief economist at ADP. "However, this sector is one that will likely benefit the most over time with re-openings and increased consumer confidence."
As more people return to work, the economy is starting to gain strength again in sectors outside of the housing market. Consequently, mortgage rates will rise. Right now, rates are still very low compared to pre-pandemic levels. Taking advantage of them now while they are low could save you thousands of dollars over the life of your loan. For more information, contact us today.
Sources: ADP Employment, Census.gov, MarketWatch, MBA, Mortgage News Daily