Navigating a Competitive Market with Your VA Loan
Blog posted On December 17, 2020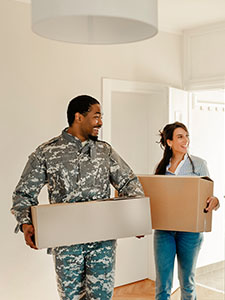 Low housing inventory and soaring home buyer demand have led to an increasingly competitive housing market this year. While homeowners are flooded with multiple offers, home buyers are struggling to find ways to stand out. With the VA Loan – a loan backed by the U.S. Department of Veterans Affairs for military members, Veterans, and surviving spouses – you have many benefits that can help you edge out your competition. Here's how you can best prepare to use them to your advantage.
Get your Certificate of Eligibility
The first step to getting a VA Loan and winning a bidding war is applying for your Certificate of Eligibility (COE). This provides your lender proof that you are qualified to receive a VA Loan. You'll need the certificate for the loan to close, so it is a good idea to start the process early. That way, when you present your offer to the seller, you can show that you are qualified to receive the loan. To apply for your COE, you can fill out a form online, send a Request for a Certificate of Eligibility by mail, or talk to your lender for more information.
Choose a REALTOR® familiar with VA financing
VA Loans have a few special requirements, and it's important that you go through all the proper steps. Working with a real estate agent that has experience helping military clients can help simplify the home buying process. A good REALTOR® will guide you through all the home buying steps, ensure that you have met all the VA Loan requirements, and advocate to the seller on your behalf.
When interviewing real estate agents, ask if they have had any experience serving military clients, or if they have any additional certifications such as the National Association of Realtors' (NAR) Military Relocation Professional (MRP) certification. This certification proves that a REALTOR® has a better understanding of VA financing and the processes and procedures involved in a military relocation.
Prepare for VA Loan costs
Similar to conventional loans, VA Loans have closing costs, which typically are 2% to 5%*of the loan. For a loan of $350,000, this could mean anywhere from $7,000 to $17,500. Closing costs may include expenses such as appraisal fees, inspection fees, or title and origination fees.
Unique to the VA Loan is the VA funding fee – a one-time payment made by the borrower to help lower the loan costs for U.S. taxpayers. VA funding fees may vary per borrower situation, but typically range anywhere from 1.4% to 3.6% for a VA-backed purchase or construction loan. You can either pay the fee upfront at the time of your closing or you can roll the costs into your loan. However, rolling the costs into your loan means you have to pay interest on the fees, increase your total loan amount, and raise your monthly payments. There are exemptions to the VA funding fee including veterans who are receiving compensation for a service-related disability, active-duty service members who have received the Purple Heart, and more.
To see if you qualify for a VA funding fee exemption, visit va.gov or talk to your lender.
Have some cash ready
One of most attractive benefits of the VA Loan is its 0% down payment requirement. Though conventional loan borrowers typically have to save thousands for down payments, borrowers using VA Loans do not. With bidding wars driving home prices up, this zero-down feature can be an advantage for VA Loan buyers.
However, having extra cash on standby can help increase your approval odds, cover your earnest money deposit, and pay for other moving expenses. Though approval processes may vary per lender, in most cases they will review your cash savings to make sure that you can handle any unexpected expenses in the future. Additionally, earnest money deposits are applied toward your purchase and returned upon closing – showing sellers that you are serious about buying their house. After closing, you will likely need extra money for any home maintenance, furniture, or moving costs – though many moving expenses are reimbursed for military service members.
Since loan limits were eliminated for most VA Loan borrowers earlier this year, the VA Loan advantage can be extremely beneficial in a competitive market. To get started on your VA Loan, contact us today. As a VA-approved lender, we would be honored to help you make home happen this holiday season.
*Conventional Payment example: If you choose a $250,000, 30 year loan at a fixed rate of 3.3% (APR 3.5%), with a loan-to-value of 80%, you would make 360 payments of $1,122.61. Payment stated does not include taxes and insurance, which will result in a higher payment.
Sources: NAR, The Street, USDA, USDA